They're talented, beautiful, rich and famous. But they are also smart, innovative and just what you need to get your business up and running!
---
Jessica Alba
---
I can vividly remember sitting in my Year eight English class, when 'the boys' at the back of the room unanimously agreed that Jessica Alba was the hottest thing to grace the face of the earth.
Well in case you didn't know (or don't follow her on Instagram- in which case, you should), Jessica is so much more than just a pretty face. Now, she can add co-founder of The Honest Company to her list of roles!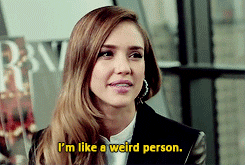 The company sells high-performing, beautifully designed, non-toxic, chemical free household products and even launched a beauty line last year.
Despite being one of the sexiest women in the world, Silicon Valley investors were not as interested in Jessica as Hollywood directors, or the guys from my high school. Like many young entrepreneurs, Jessica was forced to refine her idea over a period of a time.
Having been valued at $1.7 Billion in August last year, here are a few lessons we can all learn from Jessica's quest to provide safe and affordable household goods to families.
Lesson #1: Jessica saw a need that wasn't being fulfilled and built her idea around finding a solution to a problem.
Lesson #2: People respond to family values. In other words, people like it when a company promotes its mission as being centred on improving the family unit and the overall quality of life.
Lesson #3: You don't need a retail storefront to rock the socks off your consumers. The Honest Company is a primarily e-commerce based entity – a great way to minimise expenses!
---
Ashton Kutcher
---
To the surprise of many, the guy from That 70's Show is actually a business-minded genius who jumped on the technology bandwagon at just the right time. Having invested over $100 Million into a multitude of start-ups like Air BnB, Uber and A Plus, Ashton is certainly reaping in the rewards (Mila Kunis being one of them).
Ashton's role as an entrepreneur, on top of being one of Hollywood's most beloved comedians and all round funny guys makes him one of the most important examples that young entrepreneurs can look up to.
Here is what we can learn from him:
Lesson #1: If you have a big personality, use it! If you have always been the class clown, use it to your advantage in the business world. It seems the 'funny' one is always good at getting along with all types of people and is always amazing at creating rapport. Follow Ashton's example and combine your wit with smarts to establish long-lasting connections with investors, mentors and colleagues.
Lesson #2: Use Social Media to the best of your ability. If you don't follow Ashton on Facebook or Twitter, its probably a good time to. He is constantly posting positive affirmations and links to motivational material. Keep your social media profile clean! Be an Ashton in a world full of Kanye's and Wiz Khalifia's.
---
Gwen Stefani
---
Gwen sure has come a long way from the punky, funky and way too presh 'No Doubt' Days.
Gwen's fashion empire L.A.M.B was founded in 2003 and has made over a billion dollars in sales since its establishment.
Ranging from shoes, to perfumes, to everything in between, Stefani's fashion label combines inspiration from a range of cultures and time-periods, giving it a large appeal to consumers.
Here are a few things to take on board:
Lesson #1: A bit of self-promo never hurt. Gwen has featured her label in both her lyrics and her music videos. Dozens of her celeb friends, like Nicole Kidman and Paris Hilton have also been spotted wearing her designs. Ok I get it, you may not have access to those kind of resources, but there is nothing wrong with putting yourself out there and promoting in a modest way.
Lesson #2: Its all about the aesthetics, bro! When it comes to the look and feel of your design, whether it be the product itself, your website or even a business card, make your brand distinct and recognisable.
Lesson #3: "You begin with nothing, but you end up with something" (stated by Gwen herself). When searching for inspiration, look all around you. From the clothes people wear to the food they eat to the cars they drive, everything and anything can inspire an idea to go from nothing to something!
---
Justin Timberlake
---
Uhhhh JT. Remember back in the day when he had that weird 2-Minute Noodle looking hair do?! Boy has he come a long way!
Since his break-up with Britney and since saying 'Bye Bye Bye' to Nsync, Justin Timberlake has ventured into quiet a number of businesses. He established a clothing brand in 2005 called William Rast which rakes in over $50 Million in sales per year.
He owns a high-end tequila brand, a golf-course and is even the CEO of Tennman Records. Is that impressive or what?
Besides being a singer, dancer, actor and all-round hunk, JT can shed some light into the world of entrepreneurship. Here's what you can learn from him:
Lesson #1: Don't limit yourself! I feel like it would have been super easy for JT to stick to music and maybe do a little bit of acting on the side. Instead, he can add dozens of other roles to his resume, something we should all take note of.
Lesson #2: Work off your talents. If you're good at something and combine it with a bit of passion and drive, who knows, you could be as successful as JT himself!
Lesson #3: Trade in your double denim for a 'Suit n Tie'. Who could forget that infamous double denim nightmare (that we all kinda secretly loved) JT wore to the American Music Awards in 2001. A Suit and Tie will serve you much better in the business world!