While most of us are happy to enjoy the modest delights of the everyman's campsites, it's nice to know where we'd be able to afford should we strike it rich.
Here's a list of what some serious cashola will get you around the world. I've even converted the amounts into Australian dollars because hey, I'm a bloody good bloke.
---
Sal Salis
---
Located in Exmouth, Western Australia, a night in this dry paradise will set you back $916. Small change really.
But how can feel guilty about spending some time here when the luxury is strictly sustainable? That's right, completely solar powered electricity, composting toilets, organic linen and a 20 litre daily washing water limit per guest.
Yep, you can sleep easy on what I can only assume is a bed of $100 notes.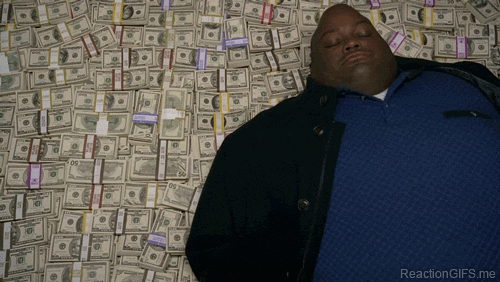 ---
Cresto Ranch
---
Situated in the Dunton Hot Springs of Colarado, the Cresto Ranch sits in a serene alpine valley of the Rocky Mountains.
Fitted with all of the modern essentials, these rustic cabins were restored from old buildings located at the limits of an old ghost town. Not creepy at all!
Here, you can enjoy the beautiful hot springs as well other activities such as horseback riding, helicopter skiing, kayaking and fly fishing.
And all of this will only set you back $972 a night. Worth it!
---
Amanwana
---
On the Indonesian island of Moyo, Amanwana is a luxury resort where you can observe one of the most well preserved coral reefs in the world.
A night in one of their rooms will set you back around $1,180 which, to me, is some real value for money.
Included in the cost is a cruise ship that will ferry you to the islands of Rinca and Komodo where you can gawk at exotic beasts with an expensive camera that you don't know how to use.
Choose an ocean view or a secluded section of the jungle to show the world how much money you have. Look at this! Just look at it.
I mean, is it even camping if your "tent" has hardwood floors? The lines are so blurred I'm beginning to question everything I've ever known.
---
Chiawa Camp
---
Regarded as Africa's finest safari experience, Chiawa Camp is located in the Lower Zambezi National Park.
For $1,184 a night you can go canoeing, do a spot of fishing or experience a guided safari tour or hunting trip and not feel at all like a cashed up tourist.
Enjoy a completely safe, friendly dining experience where there's absolutely nothing stopping you from being trampled by a god damned elephant.
---
Aman-i-Khas
---
Located just outside of the Ranthambore National Park of India, Aman-i-Khas boasts tents that are modelled after the ancient travelling tents of the Moghul people. Who says you can't buy a rich cultural experience?
At a premium of $1,288 per night, you'll be treated to guided nature walks around the park and a safari tour into the depths of the Indian jungle.
You'll feel like the fanciest Indiana Jones that ever lived.

---
Clayoquot Wilderness Resort
---
Only accessible by a thirty minute boat ride or forty five minute scenic flight, a single night here will set you back around $2,200 per night.
Based on Vancouver Island in Canada, the activities you can do include yoga classes, horseback riding, kayaking, whale watching, bear watching, hot spring swimming, archery, rifle shooting, zip-lines and even more.
Rooms have hot tubs and saunas fitted to give you that really rich wilderness experience. So authentic.
---
Four Seasons Tented Camp Golden Triangle
---
Yeah, mad, I've got between $3,217 and $4,267 to spend on a single night of accomodation in what is essentially a cabin with thin walls. Have you seen the spiders in Thailand? They will destroy you and the dreams of your children for generations.
If that doesn't bother you then I'm afraid you'll need to check yourself into the crazy house, my friend.
As you may have guessed from my minor outburst, this little slice of heaven is situated in Chiang Rai, Thailand and offers elephant rides, complimentary 90 minute massages and three dining options, all off which include rare wines from Southeast Asia. Vibes.
This is life way of telling you that you have too much money.