So it turns out that almost 200,000 of you slackers are considering chucking a Ferris Bueller on Monday to take full advantage of a four-day weekend.
With 'Straya day falling on a Tuesday this year, I can't say that I'm at all surprised, particularly because we're all still stuck in Christmas holiday mode.
Shhh it's ok, don't deny it. We're all hurting.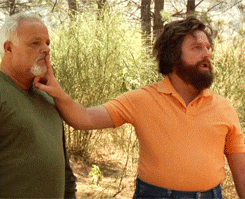 And because Victoria think that they're better than everyone else, they've declared Monday an official rostered day off if you're in the construction biz.
Dubbed a "lockdown weekend," unionised work sites will be closed from Friday night all the way through the Wednesday morning. Can I just say that this is a gross injustice to all other states and industries, we want a fancy weekend, too!
In what would appear to be a protest to the fact, over 15% of Sydney folk and 16% of the denizens of Melbourne are gonna do it anyway, opting to call in sick, according to a survey by app provider Clipp.
An average of 16% of the 2000 people surveyed admitted that they have chucked a sickie on the day before Australia Day at lease once, with 7% saying they've done it a few times. Cheeky.
The average Australian worker takes 8.6 sick days a year, costing around $347 per day, leaving employers around the country to foot the bill.
It's estimated that Monday alone could cost them a whopping 62 million smackers. And to that I say – worth it!
All kidding aside, you should probably be doing the right thing by your employer and going into work, unless of course your employed by Darth Vader, that's totally understandable.
If you are going to "call in sick," at least make it as enjoyable as possible for your boss by coming up with a creative excuse. Here are some fantastic ones:
A can of baked beans landed on my big toe
Text from a limousine saying the employee was being ferried off into the sunset to be proposed to, doubted they would make it back in time to work the next day
I've injured myself during sex
My toe is trapped in the bath tap