As an imminent full time student, I've been slowly preparing for an impecunious existence that will last for the duration of my studies.
Unfortunately, my looming fiscal affliction means much compromise is on the horizon, particularly when it comes to food. The trouble is that I love food… I LOOOOOVE food.
But as I mentioned, when moths replace moola in your wallet, cutting corners financially means cutting corners gastronomically. Students are typically notorious for maintaining diets bereft of anything resembling first world nutrition.
Thankfully, here at The Hip Pocket, we are graced with exclusive access to one of the finest culinary institutions in existence. After discussing my impending poverty with them at great length, they have graciously provided us with a guide to gourmet eating on a student budget.
The following recipe is from the highly esteemed and much lauded restaurant, La Pelvic Compartment.
For today's repast, we will be preparing an elegant deconstructed legume stack. This playful dish will tantalise not only the most delicate of palates, but also the lightest of bank accounts.
Our journey begins with the acquisition of a handful of locally sourced ingredients, ensuring freshness and quality. Now let's preheat the oven by assigning the grill setting to 180 degrees centigrade.
In the meantime, let's prepare the two portions of whole wheat bread that will serve as the base of our meal. First, apply a liberal brushing of butter to both slices on one side only. Next, layer the whole wheat bread with any variety of shaved fromage – dealer's choice.
In this instance, I would suggest a bitey cheddar with a well rounded finish to complement the dishes organic bouquet. Additional garnishes are not required at this early stage my dear reader, but what is life without whimsy?
I assure you that this recipe has ample room to accommodate your own personal flair.
Before we move forward with our dairy-augmented wheat loaf, let us now shift focus to the main event in this theatre of flavours. It is time to prepare the pan seared legumes.
For this particular recipe, coat a nonstick pan with a reckless whisper of extra virgin olive oil and place over a medium heat. Once the pan has warmed, liberate the legumes (preferably navy) from their tin fortress and pour, ensuring all contents are released.
Garnish with a generous pinch of crushed sea salt flakes, cracked black pepper and a medley of herbs including, but not restricted to, thyme, rosemary, marjoram, basil, oregano and sage. Mix through with vigor.
Once the tomato puree dressing reaches boiling point, bring it down to a simmer and allow to reduce, stirring occasionally.
While our legumes are reducing, let's place our whole wheat bread slices under the grill. Allow to sit until the fromage has melted, being sure to not allow the cheese or the wheat loaf to burn.
Once cooked to your liking, remove from the grill and present on a platter.  Return to the legumes. Once the puree has been reduced to a thicker consistency, remove from the heat and ladle onto the platter next to your cheese treated wheat loaf.
For consumption, it is best practice to apply a lavish helping of the thickened legumes to a portion of the wheat loaf. Don't be afraid to allow yourself to get lost in the intricate cornucopia of flavours that will arouse your taste buds.
It is not uncommon to find yourself being taken hostage by the symphony of textures that reside in this dish.  Fear not, however, for any anxiety will soon be quelled rather amicably as Stockholm Syndrome sets in. Buy the ticket, take the ride.
And there you have it –  Cheese on toast with baked beans.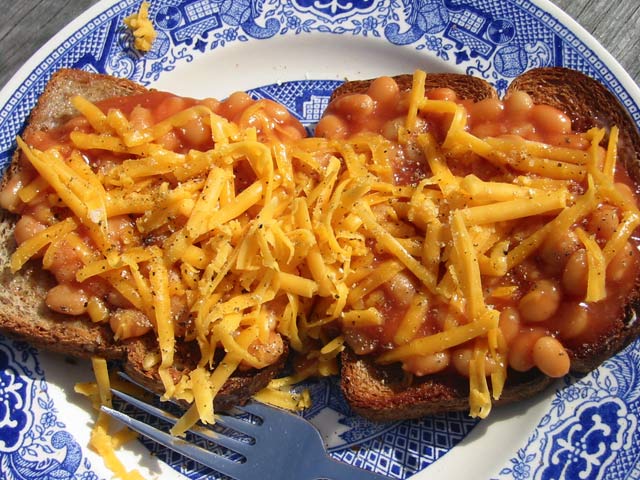 Bon appetit!