So you liked it and you put a ring on it. First of all, congratulations! Second of all, don't panic! Although it's meant to be the happiest day of your life, it certainly doesn't mean that it also has to be the most expensive. No way Jose!
After all, a trip to church, a party and a holiday shouldn't be THAT pricey should it? (I'm not bitter about weddings at all…)
Here are some tips to get the most out of your wedding budget.
---
Set a budget and actually stick to it
---
What can you actually afford? If you end up in serious debt, the happiest day of your life could be the cause of the most miserable years to follow. Financially anyway. Be realistic, make a plan and don't budge unless it's life or death.
---
Make a guest list and then purge the hell out of it
---
Does Trev from down the road really have to come? Does your old uni pal have to have a plus one? Nope and nope. Everyone on that golden list is costing you precious money, so unfortunately, you have to think about whether they're worth spending those dollah-dollah bills on. Cold, but necessary.
---
Send the invites
---
 After deciding who's through to the final round, a.k.a. your special day, it's time to invite them.
As nice as those fancy, artsy invites are, they don't come cheap. Get creative and design a seriously cool E-vite or even record a cutesy video of the pair of you inviting your nearest and dearest to the day.
It's way more personal, saves you on postage and is environmentally friendly. Boom.
---
Look for a bargain
---
Now that you've decided on a colour scheme, theme and the whole shebang, you probably have a long list of things you need for the day.
You know what? Other couples went out and bought ALL those things on your list and now, post-wedding, have no use for them.
Find these people on eBay, Gumtree, Facebook groups etc. and barter away with them. Be it awesome props, an outdoor marquee or even your wedding dress, you could grab a bargain and save yourself some serious money.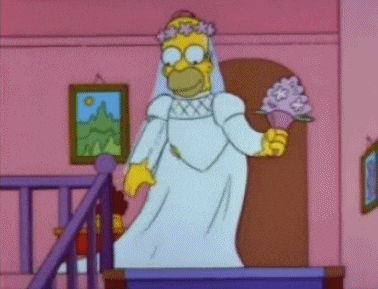 ---
Getting quotes
---
When asking for quotes from businesses, DON'T MENTION IT'S FOR A WEDDING. The second a DJ, florist or caterer hear the 'W' word, they know they can charge whatever they like. I know, right? Not cool!
Get a friend or your beau-to-be to ask for a quote for a party or another low-key event so you know what their 'usual' charge is. If you're confident in your negotiating skills, just don't mention the word 'wedding' until you've agreed on a price with a business.
---
Seek out some students
---
In a non creepy way of course! Check out some local universities to see if they have music and photography departments. For half the price, you could get a talented group of youngsters snapping away and playing for you as you walk down the aisle.
Plus, you're doing them a solid by giving them something to put on their resumes. Win, win!
---
Other alternatives
---
Avoid the logistical hell a wedding can be, grab your bags, say 'screw it all!' and elope. Sure, your Mum might cry, but it will certainly save you a lot of money and hassle. Romance at it's finest!