So the work Christmas party has been and gone and you've woken up on Monday morning to a screeching alarm and your dignity somewhere in the toilet bowl.
Whether your head is whirling with fragmented memories of dancing half naked to Britney's 'Baby One More Time' or you've had one too many beers with the boss and told him what you really think… There's no getting around the fact that you have to go to work and face your fellow work colleagues.
So unless you're willing to quit your job, how do you WORK the walk of shame?
---
With confidence, that's how!
---
So what if you were 'the drunk one'. You were the life of the party. Without your shenanigans, it would have been just another day in the office. No one wants to sip on their light beers and make small talk with the mail guy about rising postage prices.
Open that door on Monday morning and hold you head up high. High five Sandy the receptionist on your way to the office, saying, 'Fab work doo, Sandy, what a night!'
If you're the one who brings it up first, people won't have the leverage to hold it against you later.
---
Deny everything!
---
Try to avoid the raised eye brows and whispers in the corridor as you walk in on Monday morning. Act cool, calm and collected. Maybe even frown back at the frowners.
And as soon as someone approaches you about your Christmas craziness, it's your cue to act like they are the crazy one. What Christmas party? I had so many other events happening that weekend. I heard you were kissing so and so in the toilets, Oh yes, that's what Sandy the receptionist said.
You get the idea.
---
Blame it on work
---
Everyone including yourself, knows how rough work can get and by the end of the year who can blame you for letting your hair down (as well as your pants).
If you're the only one who felt like they needed a well-earned spazz out, then perhaps you're the one who works the hardest.  And if not, it's a good excuse to use anyway.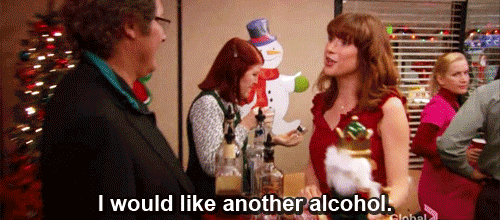 ---
Plan ahead
---
If you know yourself well, then you're kidding yourself if you think you won't be the drunk one at the Christmas function so why not plan ahead a take your well-earned leave days straight after the party.
This way, by the time you get back, everyone will have forgotten about what you did and they'll be gossiping about how Sandy and the mail guy hooked up in the filing room instead.
---
Apologise
---
Getting a bit tipsy is probably not the worst thing you can do at your Christmas function, however, yelling at your boss because he didn't give you a pay rise or trying out pole dancing for the first time is not the best look.
So if you have acted in a not so professional way, the best thing to do is say sorry. Send a group email if you don't want to fumble for words, which is also a good way to get around to everyone you offended in one quick click.
Make sure the email you send reflects the professionalism you are usually portraying at work. This will remind them that now that work has resumed, so too will your golden work ethic.
---
Quit your job
---
Ok, so this one is a bit extreme, but if you were planning on leaving anyway, ending it after the Christmas function is a great way to say goodbye to your final days at work.
This way if you get hammered and tell everyone that you hate them and how awesome your new job is going to be – it won't matter. Unless you want references of course. If not, stick it to them!
In the end, if your fellow work colleagues give you a hard time about your tipsy slurring and you really didn't do anything bad enough to cop the harassment you are receiving, then you need to take swift action and let them know their jokes need to stop. It can be easy for things to get out of hand.