If you're sitting at your desk scrolling mindlessly through Facebook as you mutter about how much you hate the world under your breath, chances are, you don't like your job.
Even if the money is good, an unhappy worker eventually becomes an unhappy person, until one day, you're not just muttering under your breath at work, you're also cursing everyone on the road as you drive home, and losing your temper at your family for no apparent reason.
A crappy job or, worse yet, the wrong career, can easily mess with your work, as well as your personal life.
There's a few easy ways to tell if you're in the wrong career.
– Do you dread going to work in the morning?
– Are you taking the term, 'chuck a sickie' to a whole new level?
– Do you feel overly tired and chronically worn out?
– Does 9 – 5 feel like a prison sentence.
– Regardless of how successful you've become; the results are no where near as satisfying as you hoped.
– No matter how much you try to adopt a positive outlook, nothing seems to lift your spirits.
If you said yes to at least a few of these, it's probably about time you did something about it. If you don't know where to begin, here's how!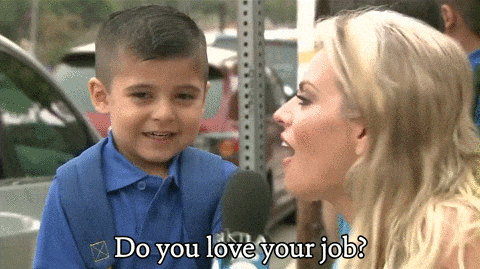 ---
Career stocktake
---
Make a list of your transferable knowledge and skills. This will create a good starting point and give you a better idea of the type of role you're suited to.
Likewise, your personality should also play a big role in your decision making process. Make a list of your likes and dislikes and take stock of the types of things you can imagine yourself doing all day everyday.
For example, if you love fitness and spend most of your free time at the gym, a career as a personal trainer could be a good fit. If you're active and struggle with sitting still for too long, then maybe avoid a career path that encompasses office work.
---
Get your investigative hat on
---
Research, research, research. Take some time to investigate possible career paths and what each of them would entail.
Once you've narrowed down the areas of work you're interested in, find out what you would have to do to make it happen.
Do you need to re-educate? Get some work experience? Also, try to figure out what a typical day on the job would look like so you can know for sure if it's something you could stomach.
---
Hit the books
---
A new career trajectory will often involve studying. If you want to start fresh, you need to be prepared to start from the bottom.
Say hello to the student life, because there's a good chance you'll be undertaking a new diploma or undergraduate degree. Depending how similar your new career path is to your old one, then you might need to do a graduate certificate or a masters.
Don't look at this as a burden. This is an opportunity to get your hands dirty; to really delve in and embrace a new learning curve.
---
Network
---
Take advice from your friends and family. These are the people who know you best and sometimes their advice is actually worthwhile.
There's also a good chance they know someone who knows someone who has all the information you need.
Unfortunately, in the big bad world of careers, who you know plays a big role in what you can achieve. This doesn't have to be a hindrance, view it as an opportunity to get out there and talk to people in your chosen field so you can learn from them.
---
Embrace your old intern persona
---
When you're ready to hit the ground running and gain some valuable hands-on experience, start looking for an internship.
Yes, working for free sucks, but it also gives you a unique opportunity to test out a new field. This is a chance for you to find out once and for all if you've picked a winner!
If you hate your career and you're ready to try something new, the only thing holding you back is yourself.