It's no secret that job hunting is one of life's most stressful searches, particularly if you've been out of the game for some time.
But with a bit of clever planning and our foolproof guide, you can make finding your next job a piece of cake.
---
Quality, not quantity
---
Instead of working like a crazed lunatic to send out fifty generic, one-size-fits-all cover letters and resumes, it's best to plan your approach a little more carefully.
Target a job that you actually want and look at the selection criteria. Write a cover letter that highlights how your skills and experience address their requirements.
If the employer is looking for a certified mad-dog, provide an example of a time where you displayed some textbook mad-doggery and highlight how it can benefit them.
It's also wise to adjust your resume to suit the application and remove anything that may not be relevant to avoid clutter. The recruiter for a large IT company probably doesn't need to know about your gnarly sandwich artist experience.
---
Set manageable goals
---
While it can be difficult to stay motivated in tough times, setting yourself achievable goals each day will make it a tonne easier.
No, you can't just write 'apply for jobs' and be done with it. Break your goals down into smaller, precise pieces that can be easily completed.
For example, you could set a target of sending out three applications each day. This gives you a clear goal that you can triumphantly tick off at the end of the day.
---
Look up to your idols
---
Everyone's career path is different and the vast majority will be anything but linear. It's quite common to jump between occupations before settling into the one that's right for you.
Chances are your heroes probably didn't start out where they wanted to either. Kanye West started his working career as a Sales Assistant for GAP.
He also claims that he'd like to be the "Steve Jobs of GAP"; a title I can only assume is achievable by first making it in the rap game.
If you're feeling disheartened, look up your heroes and see where they started. You'll likely be surprised and may even see some similarities in your own path.
---
Ask for help
---
Never be afraid to ask for a second opinion on your resume or cover letter. A fresh set of eyes will pick up any glaring mistakes and even suggest improvements.
Be sure to choose a trustworthy friend that will give you constructive advice, not just take the piss out of your professional persona.
---
It's OK to take a break
---
You're not a robot, so there's no need to act like one. Unless of course you're into that sort of thing, we're not here to judge.
Be sure to schedule in some breaks throughout your job hunt to give yourself a well-deserved rest. Better yet, why not go outside and get active to let off some steam?
If fresh air isn't your thing, you could dominate some strangers in a video game of your choosing.
By allowing yourself to unwind and relax, you will be far more productive when it comes time to knuckle down.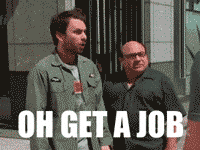 Feature image: Jumanji