Two Aussie tech startups are introducing a platform that would allow everyday customers to purchase bitcoin over-the-counter at newsagencies. This is the first time that Australians will be able to purchase the currency with cash in retail stores.
It's hoped that the rollout to 1,200 newsagencies will give them a much needed revenue boost after many have struggled to stay afloat in the changing industry.
Sydney fintech solutions company Blueshyft have joined forces with bitcoin.com.au to bring the iPad-centred idea to life. Each retailer will have an iPad that will connect users to the currency and its platform.
With a 4 percent transaction fee applied to each transaction, the joint venture is expecting around 15 million transactions in the first 12 months, with each one averaging between $150 and $200.
Bitcoin.com.au general manager Rupert Hackett says that while the digital currency is usually associated with online criminal activity, it looks set to take off.
"There is no doubt that bitcoin is poised for huge growth," he said.
"Big banks and accounting firms are investing in the underlying technology, blockchain."
The biggest advantage, Mr Hackett says, will come from cheaper remittance and financial services, and gambling. Many banks and even the Australian Stock Exchange are investigating ways to take advantage of its infrastructure to make transactions faster, cheaper and more efficient.
And it's way bigger than you think, with between $1 to 2.4 billion worth of bitcoin being transferred throughout the network every 24 hours. That's a "bit"-load of cash!
I will not apologise for that absolute gem of humour. Never.
Currently, 1 bitcoin is worth $738.32 Australian, the highest price in nearly 2 years.
If you're feeling like a high-roller and have a spare couple of mil lying around, why not buy a whole bunch?
It's hard to tell whether bitcoin will take off with everyday Australians, as it seems to reserved for the tech-savvy individual at this stage. There doesn't seem to be a real need or want for them to use the digital currency, so whether this program will change their minds is the big question.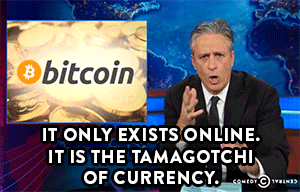 Source: AFR