You've just booked a holiday to Fiji and only have 6 months to get that bikini body in shape. You set a photo of a secluded island paradise as your phone background for inspiration and sign up to the gym knowing it'll all be worth it in the end. Only to feel guilty when you step off the plane, stop all exercise and go right back to where you started.
What if I told you that you can go on holidays, lay poolside and treat yourself with endless Pina Coladas while improving that bikini body? Sounds too good to be true right?
Wrong. Phillipa Steele, International Model and Fiji Airways Ambassador shares her realistic tips of how she manages to stay fit and healthy when travelling all year round that will keep you inspired and motivated!
---
Tip #1 The early bird gets the worm
---
Wear comfortable active wear on the plane so as soon as you check into your hotel you can drop your bags and go for a walk around the block. After a long-haul flight, going for walk is a great way to stretch your legs, get the blood pumping and breathe in some fresh air. This will help to revitalise and reset your body clock.
Once you have settled in, make the most of your time on holidays and don't waste your day away by sleeping in. Set your alarm and wake up with enough time to walk or jog to a spot where you can watch the sunrise. Not only does it release endorphins that will leave you feeling incredible, but you then have the rest of the day to spend at your leisure. Not to mention capturing an incredible Instagram shot. #living.
---
Tip #2 Your hotel room is your new gym
---
You've got a hotel room; you've got a gym. All you need to pack is a skipping rope, resistance bands and a yoga mat. Light weight and easy to chuck in the bottom of your suitcase! With these three exercise essentials you can do core, resistance and cardio training all in the comfort of your own hotel room.
Here are a few exercises you can do when you wake up in the morning or before you go to bed at night:
80 x skips
15 x lunges each leg
30 x squats using resistance bands
30 x abdominal crunches
1-minute plank 
---
Tip #3 Go on an adventure
---
The best and easiest way to keep fit when travelling is to simply explore the outdoors! What better way to discover a brand new city or town?
Think about your surroundings and research things to do before arriving at your destination. Can you go hiking, snorkelling, kayaking? Does your hotel offer activities such as yoga and dance classes or games of tennis and golf? There is always something to do and see on holidays, so no excuses!
Hike to the top of a lookout for sunset, climb a mountain, book a group snorkelling tour, hire a bike or simply just shop till you drop! Try something fun that you've never done before such as learning to surf or stand-up paddle boarding. It's working out without even knowing!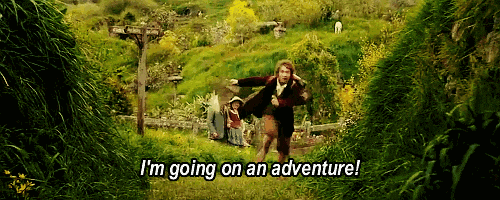 ---
Tip #4 Make healthy food choices
---
Let's be honest; you're on holidays, you're going to treat yourself, and that's ok! But watch out for those buffet breakfasts and all you can eat restaurants!
A good way to avoid overeating when you're travelling is to clear the mini bar fridge in your hotel room and fill it with fresh fruit and healthy snacks from the local supermarket. This makes It easy to throw some fruit or a muesli bar in your day bag before leaving the hotel, which also stops you from buying any unhealthy snacks while you're on the go.
When it comes to dining out, try to steer clear of anything deep-friend or battered. Instead, choose a meal that is clean and the meat is either steamed, roasted, grilled or boiled. If the menu doesn't have many healthy options, it never hurts to ask the waiter if you can have your fish grilled instead of fried and a side salad to replace the hot chips. But remember, it's all in moderation. You can still indulge in the culture and try local delicacies, it's all part of the experience after all!