It's pretty obvs. Money's good stuff to have. But let's embrace a random angle and have a squiz at how and when the M word's been used as the lyrical theme of choice in a variety of musical genres across the ages. Note: personal preferences have been activated slightly.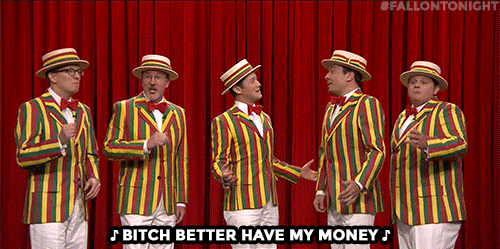 ---
Money Honey – Elvis Presley (1956)
---
Featured on his debut studio album, the King dulcetly croons, "Money, honey, if you want to get along with me". No need for similar affirmations later on his career me thinks.
---
---
"Your love gives me such a thrill, but your love don't pay my bills. I need money (that's what I want)". A straight shootin' tune.
And The Beatles did a cover of it four years later, so hopefully Mr. Strong did in fact get what he wanted in the end.
---
Money – Pink Floyd (1973)
---
References a good job, an adequate salary, stashing it when you get it and random mentions of caviar, football teams and um, gas. Excellent sound effects as well.
---
---
Yep, so hard for it honey. "She works hard for the money, so you better treat her right". An early feminist F-you statement with an inspiring flash mob sequence.
---
---
Lyrics include an entirely inappropriate F word, chimps bangin' on bongos and microwave ovens being tirelessly installed.
Oh and Sting as backup. AND your chicks for free. Rock 'n' roll peeps.
---
Mo Money Mo Problems – B.I.G featuring Mase & Puff Daddy (1997)
---
Contains words like phizat, thizat, trizack and kizzack. Yep, I'm confused, but at least the chorus makes sense. "I don't know what they want from me. It's like the more money we come across, the more problems we see."
Sage advice.
---
Gold Digger – Kanye West featuring Jamie Foxx (2005)
---
No need to mention the M word in the title, as Mr. West is convincingly pissed off in this satirical tribute to members of the female species who intentionally use deception to have their wicked way with him and then leave him for dust.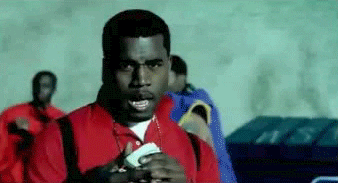 Cue Mr. Pink's World's Smallest Violin.
---
Money Trees – Kendrick Lamar (2012)
---
He's won seven Grammy Awards, created his own music genre he calls 'human music' and "dreams of me getting shaded under a money tree". Think you've got that one sorted bro'.
And yep, at 2012, I'm out of puff (and word count). But feel free to add some recent ka-ching ditties in the comments section and enlighten your fellow readers. And moi of course.