While virtual reality (VR) has been around for a few years now, 2016 is poised to be the year that the first generation of wearable VR headsets will become readily available to the masses. Expensive, but available.
But which company has the best virtual experience for your real life dollars? Well, it depends on the type of experience you're after, as each offering is slightly different.
Some cater to the everyday individual with a casual experience, while the bigger players are leaning towards an audience of gamers, offering unrivalled immersion.
Let's have a look at what you can get your hands on this year. 
---
Samsung Gear VR
---
At $US99.99, this headset is essentially a pair of goggles that you insert your phone into. In other words, it just holds your phone really close to your face.
Not to say there's anything wrong with that, it just means your experiences will be limited to what your phones hardware can handle.
And obviously, it's only compatible with later Samsung Galaxy phones. A good starting point for people that are curious about VR, but don't want to dish out for a high-end PC.
---
 Google Cardboard
---
Like the Samsung VR, this bad boy will hold your phone to your face, only it's cheaper and made out of cardboard.
Google will even supply you the schematics to make it yourself, or if you're lazy, you can buy one for $US24.95.
Another good starting point for anyone that wants a VR experience on the cheap, tailored to most Android phones. Think of it as a new-age View-Master toy or an alternative to this guy's ghetto cinema.
---
PlayStation VR
---
As the name suggests, this headset is a PlayStation exclusive that will allow players to experience the virtual word in a stationary position or through basic movement, depending on the game.
Due out in the first half of this year, the experience is said to be super-smooth, boasting a 1080p display and a refresh rate of 120 frames per second. In tech speak, that's mad!
There's no word on how much it will set you back just yet, but if it's anything like the next two, it isn't gonna be cheap.
---
Oculus Rift
---
Now we're getting to the big rivals. In the left corner, the veteran of the bunch and recently bought out by Facebook, the Oculus Rift.
It offers a mostly stationary experience on a huge 2160 x 1200 resolution at a 90 Hz refresh rate, giving a crisp experience with lots of detail.
It comes bundled with a microphone, sensor and Xbox One controller, which is compatible with PC's.
On that topic, you're gonna need some pretty powerful hardware to run games at the level required to overcome motion sickness. Yes, that's right, anything less than roughly 90 frames per second and your brain will call bullshit on the whole thing, which generally leads to that carsick feeling.
The good news is that stores are starting to build and stock "VR Ready" gaming PC's, so you know you'll be all set to look like an idiot at home in front of your expensive computer.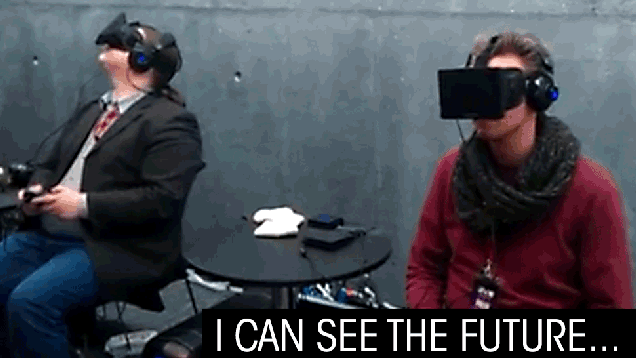 Oh, and it'll cost you $US600 on top of your monster gaming rig. Worth it, though.
---
HTC Vive
---
In the right corner, the biggest contender to the Oculus and brimming with new features, it's the HTC Vive.
Created by PC gaming juggernauts Valve, the company responsible for some massively influential games, (Half-Life, Portal, DOTA 2) as well as the online supermarket for PC gaming, Steam.
In translation, they know a thing or two about gaming.
It's rocking similar specs to the Oculus Rift but with some minor improvements that actually make a huge difference – improved motion tracking that eliminates (most of) the motion sickness I mentioned earlier and a front-facing camera that lets you switch to the real world (you know, for talking a sip of a drink or avoiding your furniture.)
Its sensors are so good that you can actually walk around the room, creating massive opportunities for new movement-based experiences. The downside to this is that you'll need the space in your home to use it.
Even with improved motion tracking, you're still going to need a hella souped up computer to run it.
And then there's the price, which hasn't been announced yet, but many denizens of the tech world are estimating that it will more expensive than the Oculus. Yikes.
So which one should you get? Depends what you're into, but even then, it's still early days. The HTV Vive seems to be a popular choice at this stage, but like most technology, it's best to sit back and watch the first couple of contenders go head to head before you make a decision.