It's that time of the year when the weather is starting to cool and the sun is tapering down for a well-deserved break. Cue not-so-subtly wearing the same shirt three days in a row and refusing to part with your one comfy pair of jeans. There are plenty of ways to flaunt this season's fashion trends without breaking your clothing budget and luckily for you, we've got all the details. Thank-you presents will be humbly accepted.
---
Ripped jeans
---
Instantly adding a chic, street-style look to any laidback outfit, ripped jeans are in high demand this autumn.
These ultra-affordable, black skinny jeans are the perfect staple that can be dressed up or down for a casual workplace. Featuring a trimmed, high-waist, pair your jeans with sleek ankle boots and a smart-casual top.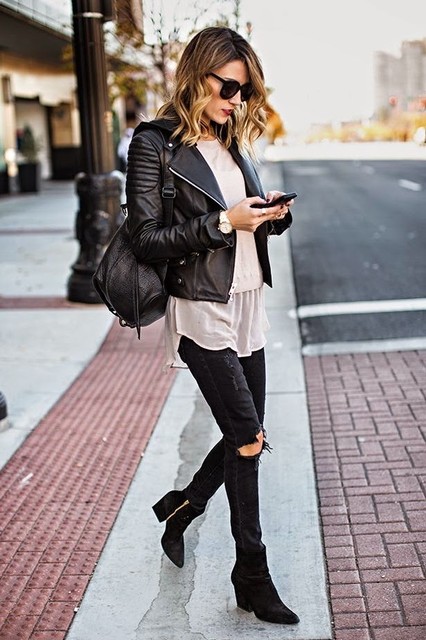 ---
Knits
---
You might not be allowed to wear your pyjamas to work, but with this light auburn knit, you'll pretty much feel like you're still at home.
Pair this chunky folded turtleneck with dark rosy jeans and brown boots to complete your autumn-inspired colour look.
---
Slit skirt
---
We are fan-girling over this baby blue skirt from Kookai, featuring a sleek, detailed split leg. Also available in white, light pink, dark blue or black for the more conservative, this midi-length skirt is the perfect day-to-night addition to any wardrobe.
Slide on a button-up and some smart black heels for a corporate look.
---
Print clash
---
Gorman's bold prints are ideal for creating runway-inspired print clashes.
The on-sale What A Gem Top can also be worn with tapered work pants for a more conventional corporate look.
---
Strappy heels
---
Affordable and ideal for dressing up any work outfit, these strappy suede heels are smart with a dark tapered skinny jean or slim work bottoms.
Add a bright jacket or clutch for some cheeky colour.
---
Oversized jacket
---
Praise the fashion gods – tight suit jackets are out and big blazers are in! From chunky military jackets to lavish, blowy coats, throw an oversized jacket on top of your favourite sexy work pants for an effortlessly fashionable look.
This Lavish Alice Collarless Cape Blazer from ASOS may (possibly depending on the health of your bank account) set you back an arm and a leg, but we promise it'll be worth it.