Here at The Hip Pocket, we spend a great deal of time giving ya'll the low down on how to be productive, how to avoid distractions and how to be the best YOU can be.
Today we're going to make an exception. Whether it's killing the last hours of work on a Friday, trying to make that lengthy commute home fly by, or needing to burn some time on the throne – your old pals at The Hip Pocket have got you covered. When time is a burden, here are five of the best time wasters on the interwebz.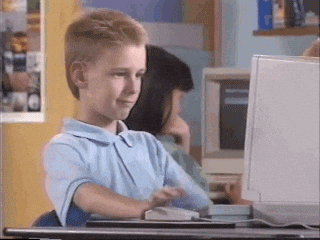 ---
---
Self-proclaimed "front page of the internet", reddit is a deep ocean of time killing content. Trawling the website can provide you with everything from lols to all the feels.
AMA's (Ask Me Anything) alone can have you sniffling over emotional, first-hand experiences or gagging at the ludicrous questions people ask celebrities.
---
---
The weird and wonderful world of the B-Card's is a simple one, just scroll and lol.
Reserved for times when minimal brainpower is required and clock-off is still a mirage on the horizon, brown cardigan is a treasure chest of the absurd and hilarious.
---
---
Feeling vulnerable? Too down and out to focus on the task at hand? The Daily Aww will cure what ails ya.
I don't care what you think you know, the sole purpose of the Internet is for sharing cute videos, photos and stories of animals.
---
---
It speaks for itself really. Playing old school games on your web browser at the click of a button.
Slow Friday afternoons at work are now a breeze with access to the perilous labyrinths of Prince Of Persia, nailing Nazi's with machine guns in Wolfenstein 3D and surviving the devastation of 2D natural disasters in the original Sim City.
---
---
There is no better way to gain self-esteem than through witnessing the suffering of others. That's why fail videos are so popular, right?
If you're as shallow as me and get enjoyment from watching people ragdoll in rough surf, then get comfy and prepare to 'shaka' the hours away.
Kookslams is a collection of videos of beach goers, surfers and swimmers getting owned by Mother Nature. Complimented by funny taglines and occasionally fitting soundtracks, Kookslams will lock you in for the long haul and have you arriving at your final destination rejuvenated and wondering where the time went.